Client Testimonials
DeWayne,
Thank you so much for providing the music for our May 17th wedding reception at Union Station! We know how much trouble that venue can be from a sound perspective, but were delighted with how well you made it work. Thank you also for your appropriate song choices - I think our guests would have danced much longer into the night if we had let them!
We will refer you without hesitation to our friends with upcoming weddings, and remember you for our own future events.
Sincerely,
Staci and David
Dear DeWayne,
Thank you for being the DJ at our wedding reception. Angie and I received so many compliments about the music and the mood of the party from the beginning to the end. All of our friends and family had a wonderful time and a large part of the credit goes to you. The service that you provided was truly professional and fun. We hope this note finds you and your business doing well and we will always be happy to speak of our wonderful experience on behalf of you.
Seth and Angie
Hi DeWayne, Thanks for such a great job - You Made The Party! Finally caught a minute here...Everyone celebrated in the midst of your fine tunes...Til next time!
Cheers
Nancy Howat
We really enjoyed your kindness, cheerful personality, flexibility, and accommodating nature. You did a great job and we'll definitely recommend you to others!
Tricia Blackburn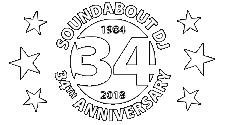 ©2017 SOUNDABOUT DJ. All rights reserved. Website programming by Notable Web Inc.